Farberware Hot Air Fryer
This Farberware Hot Air Fryer review will help customers realize how they can cook healthier faster meals with a good air fryer.
If you're like most people who live a busy life and dread the work that comes with preparing meals for your family on a daily basis, you could use help in the kitchen that will speed up the cooking process. A great cooker that many people are enjoying is the Farberware Hot Air Fryer. If you are aware of hot air fryers they are the alternative to deep fryers as they cook your foods faster without the use of oils. The
Farberware Oil-Free Fryer
will cook your favorite foods such as chicken wings, french fries, bacon, and hamburger faster and easier than before.
Farberware Air Fryer Reviews
When comparing preparing meals with the Farberware or the conventional oven the Farberware is a hands down favorite for a number of reasons. One reason is with the oven it needs to be preheated before you can use. It takes a few minutes to get your oven hot enough (preheated) before you can use it.
The Farberware doesn't need preheating, its ready to go immediately even with cold foods. There is also no need to prep your food before cooking it with this product. You don't have to wrap it with aluminum foil, poke holes through it, or anything like that. Just place your food inside the tray and turn the unit on while setting the timer.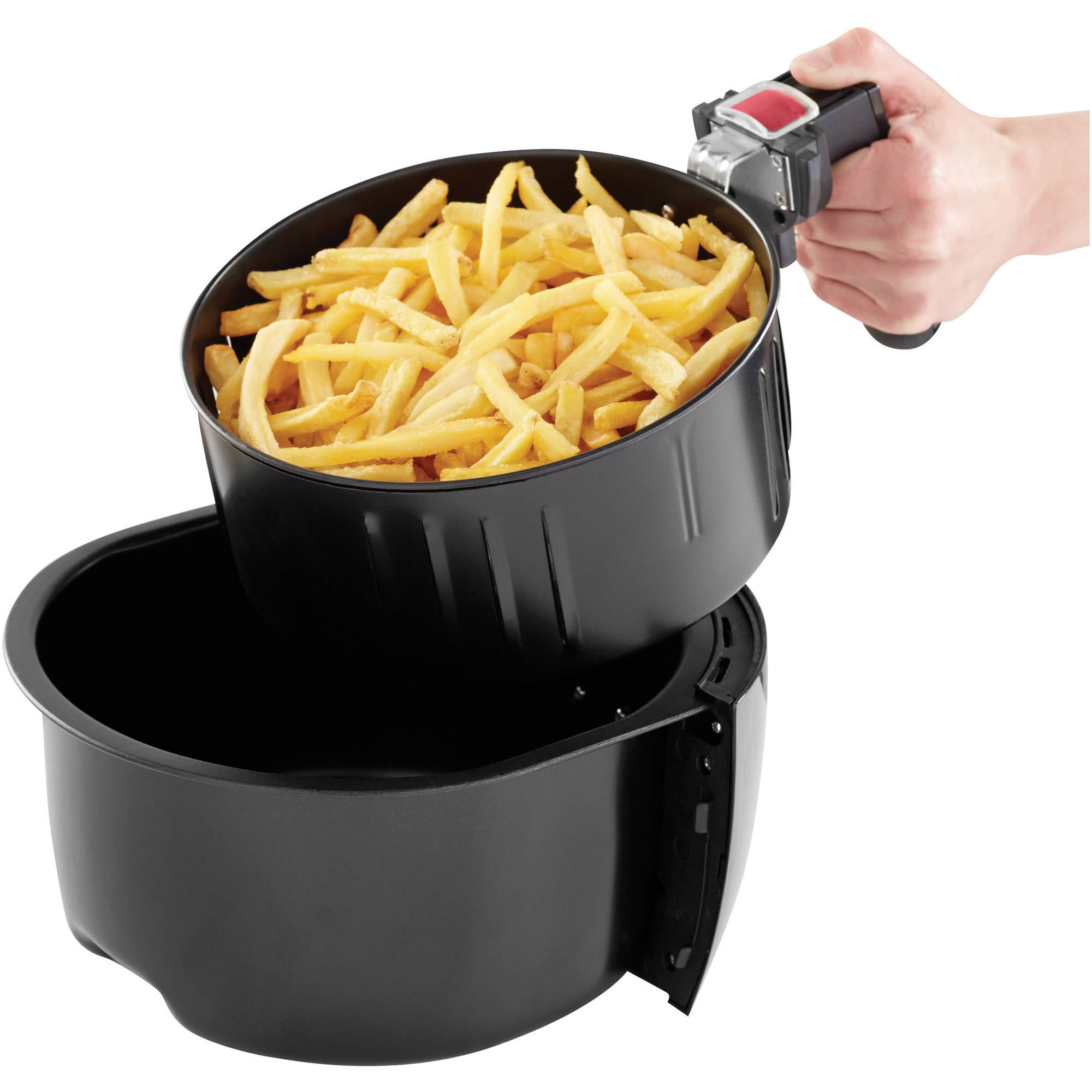 Food Preparation: It cooks foods using hot air circulation that has its advantages which evenly cooks food without needing to turn food over constantly. Also adds a fried taste without using oil. Food will have no oil smell, taste, and it prevents splatters and messes.
Temperature Settings: Has temperature settings on top including a manual 30 minute timer that you can set.
Housing tray: has a cool touch housing with a handle that you can use to safely remove the tray.
Multifunctional: used for frying, baking, grilling, and roasting
If you are new to air frying your foods there are plenty of benefits to why you should consider cooking your food using an air fryer. Here are a few reasons to consider:
Uncomplicated: Easy and safe to use especially for teenagers and elderly. They don't have to worry about using oils with their foods and they're not complicated to work. Just place your food in the fryer, set it, and it will do all the work.
Calories: Foods cooked in Air Fryers have reduced calories particularly because you don't need to add additional oils and any oils that are stored inside of certain foods will drain out of the food to the bottom of the container.
Cooks Fast: Foods don't need to be thawed out before adding to an air fryer. You can place them inside the Farberware Air Fryer as is and it will cook them faster than an oven. It also works great for reheating leftovers, just set the timer and in a few minutes your food will be hot and ready to eat.